Working from Paris: Every day new ideas and perspectives in an international growing team.
Kevin Rajaosafara is a product manager in our French team, located in Paris. In this interview, he shares firsthand impressions about working in an international and fast-growing scale-up. We asked him how it is to be part of the Thinksurance family and what he likes most about being with us.
Kevin, please tell us about your work. What is it like to work for Thinksurance in Paris?
I have been working within the French team since late spring 2021, shortly after we opened the office in Paris, the first one outside of Frankfurt. We are currently five colleagues and soon eight here in the team, with different backgrounds and expertise. We are split between product and sales teams with one general manager.
Before Thinksurance, I have worked for various insurance and brokerage companies after graduating from an insurance school. All those companies had more than a thousand employees, so this is my first experience in a smaller company.
In my role as a product manager, I help to build and adapt our platform to the French market. My experience and knowledge from my previous positions are key for this job as they gave me a deep understanding of the local market and its requirements.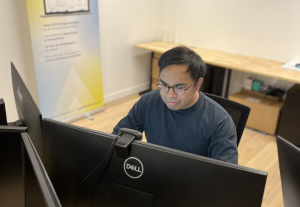 What do you love about being a Thinkie?
One of the first things that comes to my mind is the family way of thinking. All people are always helpful whether you are facing an issue, you want to clarify something or you just need a quick peer-to-peer review.
What is also really special for me is the freedom that we all have to bring in your own ideas and to build up something completely new. I love the openness to develop and discuss everything as well as the speed with which we implement things.
As such, in Paris, we have a whiteboard where everyone can put their ideas and perspectives on. It is very exciting to look at, to see that your ideas are valued, or at least taken into account, and to see which ones will be implemented and become alive. This is our special way of collaborating here in the company: you can bring new ideas in from the first day on.
At last, I appreciate that each one of us can easily break the routine by being involved in some side topics that can take from a few hours to several weeks, or in recruiting new colleagues.
How is it like working together in an international growing company?
For me, it is the first time that I am really working in an international environment. I worked in companies before with subsidiaries in 15 countries, but I never had such a feeling of a family-culture and sense of community exceeding the country or the department. One of the reasons for that is that you get to work closely with colleagues outside of France. Thus, I have been in Frankfurt a couple of times and some German colleagues have come to our office through our "Working from Paris" program. Here, Thinksurance sponsors a trip for two Thinkies to work in Paris for one or two day(s) and stay for the weekend once every month. We love welcoming everyone in our office and look forward to also going to Frankfurt as soon as the Covid situation gets better.
Another reason is that we constantly collaborate on joint projects across countries. For that, we work together via Teams conferences, chats, or also sometimes in person. If you search for an expert in a field or have a question about a specific topic, you just have to reach out and everyone will be eager to help you.
What was your biggest surprise at Thinksurance?
My biggest surprise was the state-of-the-art coffee machine in our office in Frankfurt that will please all coffee lovers like me. When you are used to free coffee that is served in coffee dispensers, having real coffee from such a machine blows your mind.
Apart from that, I was also really impressed by the level of commitment that has been shown by all colleagues during the past months that I have been at Thinksurance. It really motivates you to see such a level of commitment around you.
Thank you, Kevin, for the interesting insights and your perspective!