As a tech company, Thinksurance works with agile methods. Hence, the team we call "Product Department" consists of interdisciplinary experts such as software developers, scrum masters, UX/UI designers, product owners, and data analysts - all working together in scrum teams. One of our scrum masters is Nan Liu.
Nan works closely together with two of Thinksurance's scrum teams: Team Fast & Furious and Team Elders. Team Elders is engaged in building Thinksurance's product for brokers, the Advisory Suite, which provides intermediaries with complete advisory and support processes in one environment, while Team Fast & Furious is responsible for providing calculator services that are being used in the Advisory Suite. The teams work in so-called sprints, which usually cover a two-week work cycle. Here, the scrum masters help their teams to organize themselves, prioritize tasks, and maintain an overview of the overall work processes.
Since Nan started back in May 2021, she already achieved a lot, for example integrating her way of working into the agile project management and by that developing it even further. Here, she applies her two core work principles: a) put people first and b) technical aspects and tools like Jira come second. They exist to allow people a focused working environment and help the teams to get their work done successfully. And this is how she spends her days, making Thinksurance better at what it does.
8 am - The early bird gets the worm
Although she likes both, Nan starts her workday early with a good cup of coffee rather than tea. Right after that, she switches into working mode, first checking her e-mails and messages. Is there anything urgent that needs her attention? Is there anything she should take care of to support her teams? Those are the questions she starts her day with.
After gaining an overview and thus prioritizing or deprioritizing some topics, Nan takes a minute to plan the day. Her calendar and her to-do list – which is a simple Kanban board – are her most important tools. Both need special attention, because her two scrum teams rely on her skills to navigate them through the agile process of sprints, ensuring transparency within the team and resolving the impediments.
9.30 am - Standups with the teams
It's time for the daily standups with the teams, 15 minutes each. Every team member gives a quick update on what's on their list for the day, how everything they are currently working on is progressing, and, very importantly, if they need help. One of Nan's tasks is to maximize the value of these short meetings. Every standup is a chance for the team to inspect and adapt.
Meanwhile, especially in software development, the teams want to use their time to solve problems instead of having long-lasting meetings. Time is key! But when there are road blockers ahead, Nan steps in and provides help, for example by collecting more resources or bringing in other Thinksurance specialists.
One thing that has changed since she started: the scrum teams are working more and more remotely. Since most meetings are online now, tools like planITpoker or Miro became more important to ensure a well-synchronized collaboration and steady exchange.
2 pm – Connecting the dots for her teams
During the day, Nan receives all kinds of messages and requests from her scrum teams and other Thinkies. She checks each of them and transfers them into action points if the request is within her responsibility. If not, she will align with the responsible people to get things done. For that, the recurring exchange with Thinkies throughout the whole company, user stories, and the high-level knowledge she gained so far about the company as well as the product build the basis for her decision.
In her role, Nan also has a tremendous impact on team building and providing an environment of trust and liability. This is very crucial because at Thinksurance, everyone is encouraged to bring in their own ideas and solutions. This way, no one solely focuses only on the upcoming sprint and the day-to-day business. Instead, everyone is encouraged to think big and to create long-lasting value. Therefore, Nan also plans six or even twelve months ahead. What will the team look like at this point? Which team members are doing well in which parts, who needs support in a certain workflow and how can this support be provided?
4 pm - Connecting the dots for other Thinkies
Now it's time to meet with the product owners of her scrum teams in order to plan the next sprint. How many tickets will the team be able to deal with until then? Which tasks are the most important ones? How can the complexity of tasks also be considered instead of pure time tracking? Discussions like this broaden Nan's role. Because other than being a scrum master, she also serves as a consultant or mentor – always following her principle to put people first.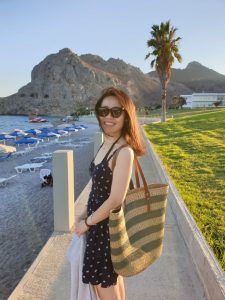 5 pm – Final countdown
One last tea, a final quick glance at her calendar and her to-do list for the next day and Nan is ready to start her spare time. Because she loves cultural events and sporty activities, you will not only find her at concerts and in museums but also being active and hiking in nature – often together with other Thinkies. Because you know, put people first!