Thinksurance has set out to revolutionize the brokerage of commercial and industrial insurance. An ambitious goal, which is reflected in the corporate culture: Thinksurance is different from everyone else, breaking established rules, structures, and behaviors - also internally. Ambitious performance meets a warm family atmosphere.
First things first. Thinksurance offers more than just jobs – Thinksurance offers people a place in a second, professional family. And indeed, people at Thinksurance treat each other less like colleagues and more like family. Everyone at Thinksurance pursues the same big goal and shares a common set of values. No matter who you are, to which department or hierarchical level you belong: Mutual care is crucial. Everyone looks out for each other and helps when and where necessary.
What else makes a family? There is arguing, for example. There are a lot of professional, ambitious, and smart minds at Thinksurance with different backgrounds. It's pretty clear that they don't agree all the time on what's the best way to go. But with the same goal in mind – getting the best result for us as a company – they are always discussing professionally, openly and on eye-level with each other.
Besides that, we enjoy coming together and spend some (more) time with the crowd. No matter if it's an after-work beer in the office, public viewing for the Eintracht soccer game, going to CrossFit, or doing a hike or bike trip on the weekend. And like a family, you can of course always count on their help. Imagine, a Thinkie spontaneously needs help with a move because the moving company backed out. One message in the WhatsApp group and you can be sure that help will be offered directly and some other Thinkies will help carry boxes on that moving day.
From the start – becoming part of the family
But one after the other: When a candidate decides to join our journey, he or she is part of the Thinksurance family from the moment of the final agreement – and with that a member of a close-knit community. This means that even before the first day at work, the new colleague is welcome in the company and is invited to all joint activities such as team evenings or events.
On the first day, everyone gets a buddy. This means each new employee is assigned a contact person who is there to help with any professional or personal questions. It is a partnership without an expiration date: For many Thinkies, their buddy is much more than a colleague. Over time, they often become friends..
A warm welcome - and well-structured onboarding
The actual onboarding begins on the first day of work. The team not only warmly welcomes new colleagues but also puts a lot of effort and care into professional training. Content Marketing Manager Christoph Daniel recalls his own few weeks in the new job: "To get started in the company, the industry, and the topics, Thinksurance provides new colleagues with company-wide know-how through numerous onboarding sessions. In addition to short sessions in which individual teams present their work, so-called "mini-internships" are also an integral part of the onboarding plan. My onboarding conclusion: Extremely structured, with a lot of input and very practical."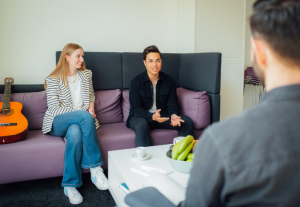 Everyone pulls together
The cross-functional, cross-departmental, and cross-hierarchical work continues in daily business. Like in a real family, everyone pulls together and claims responsibility. Sales Manager Matthias Termer confirms: "I have an idea or a problem, I can go directly to the founders. They are always open to feedback. For structural reasons, that's not so easy at a traditional player, whether on the insurer side or at a large brokerage house."
Shared values and the same mission are important. Damir Mitrovic, Expert Strategic Partner Manager, puts it into concrete terms: "We are changing the insurance market. Getting cooperation partners excited about our platform is what motivates me most." Damir and his colleagues see themselves as success-oriented problem solvers who maintain an honest, authentic relationship with their partners.
Together, we grow beyond ourselves
Challenges help people to grow beyond themselves. Thinksurance gives its employees the tools they need to do so. Thorsten Hahn, Senior Product Manager, reports: "Not only am I personally noticed and valued, but value is also placed on my professional as well as personal development." He and his colleagues benefit from a wide range of language courses, personality and soft skills training as well as financial support for individual training.
Equally important for growth is an environment that balances personal and professional concerns. Rebecca Beranek, UX/UI Researcher, says: "It is not always easy to reconcile family and career. At Thinksurance, I have a lot of freedom to organize my working hours flexibly and at the same time I can make a difference." For example, some measures which make it easier: FlexVacation (flexible leave between 20 and 36 days per year), FlexLocation (working at your favorite location), or flexibility in working hours – for everyone's own definition of work-life balance.
All of these examples show: Thinksurance is much more than an episode in your CV. Thinksurance is a family that enriches lives and helps its members to achieve their ambitions. You say you already have a family? Then imagine you could be as comfortable on the job as you are there. You like the idea? Then become part of the Thinksurance family.