Sometimes, walking into our office feels like a short trip around the world – not only culturally but also culinary. The reason? Our numerous employees from various countries. With many different languages, more than 24 nationalities, and the mixing of cultures, we are one of the intercultural hotspots amidst the skyscrapers of Frankfurt.
This is not only an advantage when professionally learning from each other but also when getting to know colleagues, their cultures, and of course: getting to taste typical food, when our colleagues bring delicious snacks to the office. And a multicultural team brings of course many exciting aspects and new perspectives to the team culture. Two of our internationals, Matheus Faustino from Brazil and Roland Alla from Albania talk about their way to the Thinksurance office in Frankfurt and what it is like to move several thousand kilometers away for work.
Bom dia, Matheus and mirëdita, Roland! You are both software engineers who came to Germany to start working with us. Can you tell us a bit more about yourselves and your journeys?
Matheus: Sure! My name is Matheus Faustino, and I'm a software engineer from Brazil. I've been working in the industry for nearly eight years now. During my studies in Brazil, I've had the opportunity to go and study abroad in France for more than one year – so while Thinksurance (TS) was not my first job in Europa, it definitely is my first job in Germany. 
Roland: Hello! I'm Roland, a software engineer from Albania. Four years ago, before Thinksurance, I started working in a very traditional German company in a small town named Fulda. Coming directly from Albania, it was a very interesting experience for me, to move to Germany for work all alone. 
Why was it so interesting, Roland? 
Roland: The company I worked at was, what I would call, a traditional German company. Other than me, there were only two other international employees. While it was a valuable experience, with very friendly people who were very open to get to know my culture, I still missed this specific international culture at work. So, I tried to meet many international people in the area, visited Frankfurt a lot and that is where I met people from Thinksurance.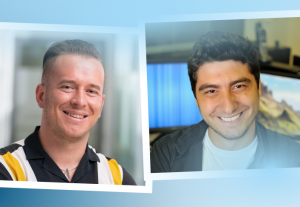 Were there any big differences for you in the way of working in your home country and Germany?
Roland: In the beginning, I was really impressed by how structured everyone is. This was an exciting experience for me, because up to now I was used to: let's do the work and see what is happening on the way. At Thinksurance, I think it is an excellent mixture of both. We work agile, we have a lot of freedom when it comes to developing new solutions or working with the latest software technologies, but we also meet in our team, discuss what we are doing and support each other. I think, this is a perfect balance. 
Matheus: What really helped me at the beginning here was the international team. Just in my team, we have four developers, one scrum master and everybody is from a different country. I love it, and I am learning a lot from all my colleagues – on a personal level, but also work-wise. With so many nationalities, everyone solves software problems differently and for me, I'm always positively surprised how each one of them is doing it.  
Roland: I agree, this is also fascinating to me. And you can't forget about the different tastes in food! Before Corona, we had a tradition of going to different restaurants on the weekend, always trying food from another colleague's home country. This was awesome, and I guess we will start doing this again soon.  
What are you doing exactly at Thinksurance? Are you working in the same team? 
Matheus: No, we are not in the same team. I'm working on the calculators of the platform.  
Roland: Actually, I was working on the calculators when I started, but now I´m in another team where I'm working on the booking process. This is the last step of the consultation with the platform.  
As you probably know, the insurance industry in Germany is very traditional. Why did you choose to work in the field of digitization of this specific industry?
Roland: Actually, that's exactly why I chose this industry – because it is a challenge for me. The insurance industry is still very analog and there are not many companies out there that are digitizing insurances. To move pen and paper processes to the digital world is exciting and at the same time very challenging software-wise. Particularly, programming the calculators Matheus is working on, because every insurance company has entirely different logics on how they calculate their insurance rates.  
Matheus: I agree, it's challenging but hey, we are software engineers, we love these kinds of challenges. I think, for me, it is also the impact on society we are having. The market here in Germany is huge, and we can improve people's lives with our work. And I also really enjoy that the work we are doing here is quite new: At Thinksurance, it is always possible to suggest an idea and to use the latest technology nearly nobody has ever worked with before. That is exactly what I really like – because in many other companies the big work has often already been done by others. So, you just use their proven tools to fix or change something, but nobody will actually notice your work from the outside. Here at TS, I can implement something and when it is online on our website, I can see how people use my idea in real life. That makes me very proud.  
Do you have any advice for people from other countries who might apply for a job here in the company?
Matheus: Yes. At first, I was afraid that I would be alone here. I had done my research and came across some – in hindsight – stereotypes like Germans being quieter and more reserved. You need to know, in South America, on the other hand, we talk a lot. I mean A LOT. But honestly, there is nothing to worry about! The people here really surprised me, whether on the street, in the supermarket or of course here in the company: Everyone was super nice, friendly, and helpful. Especially in the company and in my team, I felt very welcome right away. From the very beginning, they have invited me to do things together after work. On top of that, our founders are super friendly and open, i.e. they always invite everyone to go to the company CrossFit sessions with them. Even in lockdown, we had many online sessions, talks, and digital team events to keep up the family spirit.  
Roland: I would also recommend not to worry too much. Here at Thinksurance, we don't have a typical hierarchy, which was quite new to me. Before, I worked in companies where I couldn't go directly to my boss, and I had to be careful how I approached an issue. This is entirely different here: I can just go to them and ask. They are truly open, which creates a really nice team atmosphere.  
And we can say, our teams wouldn't have a team atmosphere as nice as it is without people like you, Roland and Matheus! Thank you for the interesting interview.