A great team spirit and real teamwork develops when working out together. CrossFit is very popular with us. Our personal trainer Sebastian told us what exactly CrossFit is, what is involved and why this sport is great for companies.
Sebastian, so you steel the Thinksurance team at CrossFit every week. How do you get a job like that?
I've always been a sports enthusiast and trained in the gym for many years alongside my actual job. Ten years ago, I became aware of CrossFit via Facebook – at that time, the sport was still completely unknown in Germany. During my first workout, I was completely destroyed after just three minutes – and had caught fire at the same time. So, I started to train regularly. But it wasn't until after a bad car accident, which marked a turning point in my life, that I finally decided to do what I burn for and become a full-time fitness and personal trainer.
How did you become a CrossFit trainer for companies?
It all started with Chris and Flo. At the time, they were both still at McKinsey and Chris was training privately in our box. He came up with the idea of offering me corporate training. We implemented that and it worked well right away. And when Chris and Flo founded Thinksurance, it became clear pretty quickly that CrossFit would also be available here.
Would you like to tell us what exactly CrossFit is and how a workout works?
CrossFit comes from the U.S. and consists of very intensive units that strongly demand strength, endurance, and coordination. Training takes place in a so-called box, usually a rather rudimentary, simple location. The focus is clearly on the workout itself, which usually consists of a "WOD" (Workout of the Day). Often, exercises with a certain number of repetitions are strung together along a predefined time limit, for example, 20 minutes, as soon as a round is finished, it starts all over again until the time is up.
Usually, a session goes around 60 minutes, starts with a warm-up, followed by a strength section and then the actual workout begins. For the company workouts, I adjust the difficulty level accordingly, for example, I cut out the extremely technical exercises. I want everyone to be able to participate in the workout and have fun, which also reduces the risk of injury. I also always incorporate a team workout. For example, the teams are given the task of doing 50 burpees together in 5 minutes. Depending on the fitness level, the number of repetitions is divided among them, for one person 20, the other person does 30 – or fifty-fifty. The goal is for everyone to reach their individual limits, whether you do five reps or 25. In the process, everyone cheers each other on and motivates each other. This results in a very unique dynamic and energy that drives us all and brings along a lot of fun.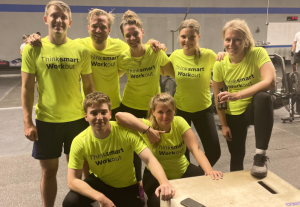 CrossFit is considered one of the hardest workouts in the world. Why is it therefore great for companies in particular?
First of all, there's the physical aspect. CrossFit is a full-body workout that will keep you very fit in the long run. It is also well suited as a preventative measure for anyone who has to sit a lot at work. That's why I always consciously include exercises in the company workouts that explicitly strengthen the back. In addition, the training also makes people more mentally resilient through the necessary focus during the exercises. And true to the motto "A problem shared is a problem halved", training together also strengthens the team spirit. You motivate and support each other – regardless of whether you're a manager or an intern – everyone has to get through the 60 minutes, and if you can do it together, you'll be better able to master some difficult situations in your everyday working life together – I'm convinced of that.
And how is the training with Thinksurance?
Thinksurance is really a special case; so far, I have not come across a company that trains so regularly and with such commitment. The training sessions are always well attended, we are now at three company CrossFit training sessions per week – and the waiting list for sessions is still not empty.
In addition, the dynamic in the team is really unique. You immediately get the impression that you're not just training colleagues, but friends. There's a lot of joking and laughing, regardless of whether the exercises are particularly painful, or someone loses Flo's famous basketball bet again, which he offers everyone. If he hits the basket backward at a five-meter distance, then 50 burpees are due for the team before training. And if he does miss the basket, he has the laughs on his side.
Of course, participation in CrossFit is not compulsory – everyone can, no one has to. However, we can reveal that those who have taken part once usually come back again and again – because the sport and the joint training is a lot of fun. That's a promise! But don't worry, not all of us go to CrossFit regularly. For those who don't want heavy weights and like it a bit calmer: once a week we also have yoga. Here we also train our mind and body as a team. Everyone just as he or she likes it best.
You want to know more about Sebastian? Here you can find him.